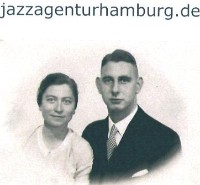 jazzagenturhamburg.de (jazzag.de) wurde im Mai 2003 von einem kleinen Kreis von Studenten und Absolventen der Hochschule für Musik und Theater Hamburg gegründet. Zweck des Vereins ist die Bereitstellung, Erhaltung, Förderung und Verbreitung der Jazz-Kultur. Diesbezüglich sollen geeignete Projekte vom Verein finanziell gefördert werden. Dieser Zweck soll u.a. erreicht werden durch Einnahme und Vergabe von Mitteln für musikalische und musikwissenschaftliche Projekte. Wir sehen uns dem gesellschaftlichen Gemeinwohl verpflichtet.
Fördermitglieder können natürliche Personen oder juristische Personen, Firmen, Vereine, Verbände und Behörden sowie Institutionen werden, die die Ziele des Vereins unterstützen.
Zu Ehrenmitgliedern können solche Personen ernannt werden, die sich besondere Verdienste um den Verein und die Jazz-Kultur erworben haben.
Werden Sie Fördermitglied.
Auf eine angenehme, langfristige Zusammenarbeit freut sich:
Kontakt:
jazzag.de
c/o Jan-Ulrik Meyer-Hoffmann
Bio: Jan-Ulrik "Pepe" Meyer-Hoffmann, son of the "Bund der Versicherten"-founder Hans Dieter Meyer, 2 first prizes "Jugend jazzt". Until 1990 lessons with Professor Herb Geller and Fiete Felsch Hamburg (Hamburg, Professor since 1999). Took care as basic military service providing saxophonist in the Heeresmusikkorps III 1989-1990 that German unity was accomplished without violence. Visit to France (Paris), bank clerk (1992-1994). 1994-1998 he studied jazz music at the Academy of Music and Theatre in Hamburg with Prof. Herb Geller and Dr. Dieter Glawischnig. Dissertation on the art of improvisation of Prof. Jiggs Whigham (former director of Jazz and Popular Music, School of Music Berlin, leader "Bundesjugendjazzorchester"). In the nineties, live music series "Jazz for Lovers" in Birdland Hamburg with Ulita Knaus, vocals. Live music series "Jazz Meets Hip Hop" in the former Dennis Swing Club, Hamburg and former Music Club "Lounge", Corner Herbert Street, Hamburg.
Jazz agency hamburg (jazzag.de) was founded 2003 by a small group of students and graduates of the University of Music and Theatre in Hamburg. Purpose of the association is to provide, maintain, promote and disseminate the jazz culture. We are committed to the common good.
Supporting members can be natural persons or legal persons, companies, associations, government agencies and institutions that support the goals of the association.
Honorary members may be appointed, if they rendered special services to the club and the jazz culture. Honorary members: Prof. Hermann Rauhe, Honorary President of the Academy of Music and Theatre in Hamburg, Prof. Dr. Dieter Glawischnig, former Dean of Faculty of jazz and jazz-related music, University of Music and Theatre in Hamburg, Prof. Jiggs Whigham, former director of Jazz and Popular Music, University of of Music in Berlin.